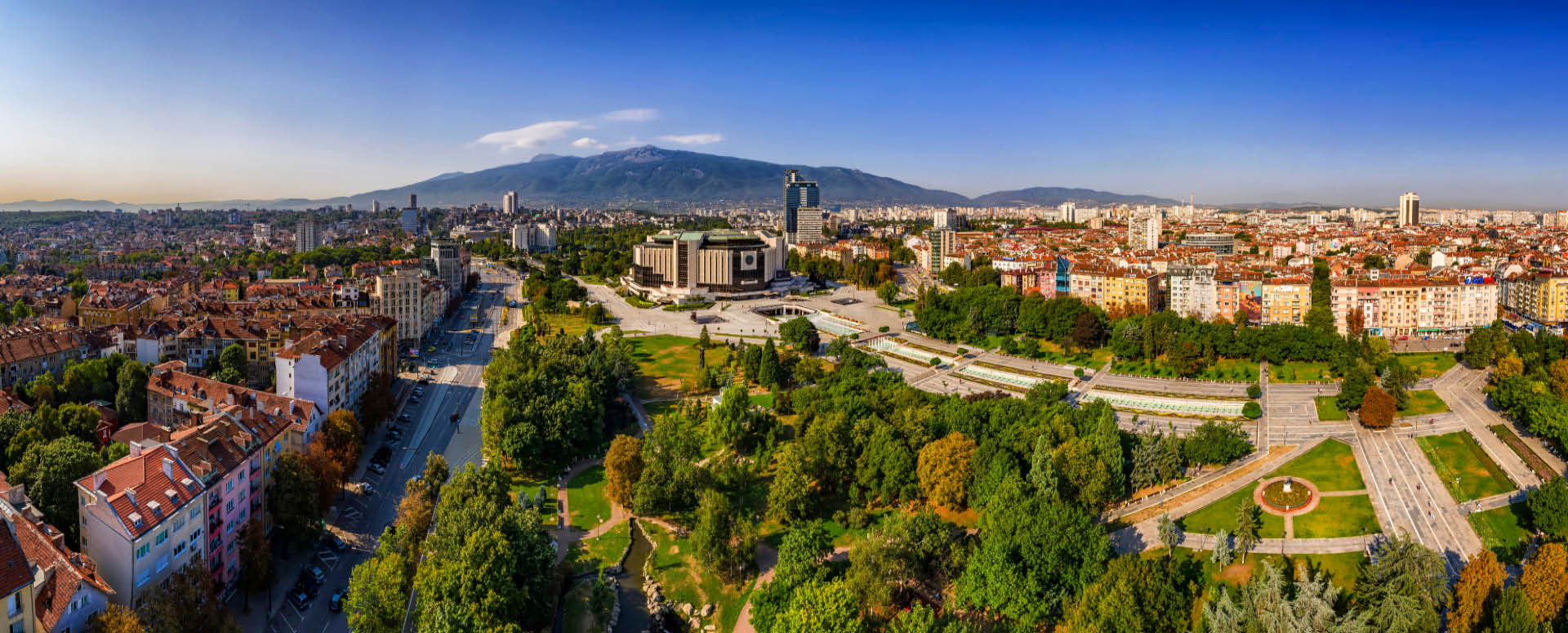 Sofia's Commitment to Human-Centred Digital Transformation and Digital Rights
Sofia is the capital of Bulgaria, the 14th largest capital in Europe and a rapidly developing innovative, technological, green and entrepreneurial hub. The process of digital and sustainable transformation is a key focus for Sofia's development and an important part of Sofia Municipality's goal of achieving and providing higher standards and quality of life for all citizens. 
The protection and encouragement of human rights in the digital environment is an indispensable part of this process, and the City of Sofia is committed to putting citizen participation, confidentiality, security and protection of personal data, as well as data transparency, accountability and non-discrimination in the centre of all processes to promote democratic participation and inclusion for all.
Innovative Sofia
In 2020, in line with its long-term commitment to digital transformation and sustainability, Sofia Municipality established the 'Digitalisation, Innovation and Economic Development' department (Innovative Sofia), headed by a Deputy Mayor: the first dedicated municipal department of its kind in Bulgaria. 
Innovative Sofia aims to support the development of Sofia as an intelligent, digital, innovative and tech city, to encourage digital rights development and protection, and to contribute to and facilitate the increasing quality of life for all citizens – in Sofia, Bulgaria, and abroad.
Key principles
Some of the key principles Sofia Municipality is following for its transparent, inclusive and sustainable digital transformation include: 
dialogue, co-creation and collaboration with diverse stakeholder groups for active engagement and participation; 
focus on need-based rather than simply technology-based solutions; 
process re-engineering and optimisation; 
use of open source solutions to prevent vendor lock-in; 
use of a holistic, people-centric approach; 
focus on open data, data compatibility and security, and data-based policy making;
international collaboration to foster long-term sustainable urban development.
The Digital Transformation Strategy for Sofia
Innovative Sofia, alongside EU experts and over 100 local stakeholders, developed the Digital Transformation Strategy for Sofia (DTSS) and the Action Plan for its Implementation under the Digital Cities Challenge (DCC) project of the EC, to encourage Sofia's innovative, digital and sustainable transformation and the adoption of new human-centred digital services and smart solutions. 
Major initiatives set in the DTSS include:
Development of new and optimisation of already existing e-services to provide citizens and businesses with secure, intuitive and easily accessible experience. 
Activities related to the review, update, consolidation and digitalisation of Municipal registers to ensure traceability, security and transparency. 
Development of educational materials for citizens and a wide variety of stakeholders on                         municipal services, products and initiatives to raise citizens' awareness and reduce the time spent physically at a desk in various institutions.
Co-creation and implementation of new digital platforms, tools, solutions and innovative pilots in different sectors to facilitate inclusivity and sustainable urban development.
The development of an open data platform and digital twin of Sofia to optimise urban processes, promote experimentation and R&D, and raise awareness about the importance of data for the creation of evidence-based policies and business solutions. 
Sofia - a Member of CC4DR 
The Declaration of the Cities Coalition for Digital Rights was approved by the Sofia City Council and signed by the Mayor of Sofia Mrs. Yordanka Fandakova in 2021, once again showing Sofia's commitment to digital and sustainable transformation and digital rights, and the key principles, forming the pillar of CC4DR.
Sofia Municipality, represented by the Deputy Mayor for Digitalisation, Innovation and Economic Development Mr. Gencho Kerezov and his team, is delighted to be a part of the global network of CC4DR and to work with like-minded cities and partners across the world to:
 
further facilitate, encourage and protect the universal and equal access to internet, digital literacy and accessibility for all citizens to overcome the digital divide
continue working for the implementation of open data standards, platforms and services to support and create more opportunities for all citizens. 
join forces with other member-cities and partners from the global ecosystem for the establishment of more effective and efficient legal, ethical and operational frameworks for the development of human rights in the digital environment.
ensure that human rights principles such as security, privacy, equal accessibility, freedom of expression, and democracy in time be incorporated by design into all digital platforms, starting with the locally provided digital services and infrastructures. 
It is our core belief that all cities together can and should use technology with a long-term perspective–effectively and efficiently.
Sofia - Examples of Ongoing Projects 
Sofia Municipality is involved in a wide range of local and international initiatives and projects. We would like to mention three of the initiatives we are currently working on, including important aspects related to digital rights:
Innovative Sofia's Sandbox for Innovative Solutions.
Focus: inclusivity, sustainability, co-creation, accessibility, efficiency
A programme for pilot projects, aiming to test innovative scalable technological solutions related to urban challenges of key importance for Sofia's residents. The Sandbox is supported by the local ecosystem, and aims to generate data to facilitate data- and evidence-based city solutions and policies; test innovative technologies; and improve the quality of life in Sofia by implementing smart urban initiatives.
The proposed projects are being assessed via the specially developed Methodology for Assessment of Projects in the Field of Digitalization and Intelligent Urban Solutions, developed by an international expert team and implemented with the support of the EIB
Focus: co-creation, crowdsourcing, inclusivity, reusability, data-based decision- and policy-making
An ongoing 3-year long Horizon 2020 project, aiming to create cloud-based tools for effective policy modelling, testing and management through data analysis and visualisation, including an ethical framework for data use and an open Data Marketplace with reusable data models and analytics tools. 
Co-creation is key, and citizens and other stakeholders take active part in the tool's development. For its pilot use case, the City of Sofia uses information, received from the 24/7 Contact Centre for Citizens Signals of Sofia Municipality – CallSofia, thus applying crowdsourced data, received directly from citizens to facilitate data-based decision-making for the prototyping, development and implementation of smart urban policies and initiatives.
ARGENTUM: Strategic Competencies for the Silver Economy (2022-2023)
Focus: inclusion; reducing the digital divide; accessibility; non-discrimination
Sofia is part of the international consortium of the "ARGENTUM" Erasmus+ project. The silver economy unites all economic activities that serve the needs of people of over 50 years of age, and the project will support the development of the first of its kind innovative cluster for the silver economy in Southeast Europe, as well as promote digital inclusion and the bridging of the digital divide. The main goal of ARGENTUM is to lay the foundations for the further development of the silver economy in Bulgaria and across Europe, uniting relevant  stakeholders, creating conditions for its promotion, preparing local authorities for the demographic challenges of today, and facilitating the entry of existing services and products. 
---
Let's Stay in Touch!
We are truly delighted to be a part of CC4DR and to unite our forces and efforts for the development and protection of human rights in the digital environment and the facilitation of digital transformation all around the world! In case you have any questions or would like to exchange ideas and best practices - please, don't hesitate to contact us:
Ana Georgieva
Senior Expert, Digitalisation, Innovation and Investments, Innovative Sofia
ana.georgieva@innovativesofia.bg
+359 882 86 85 83