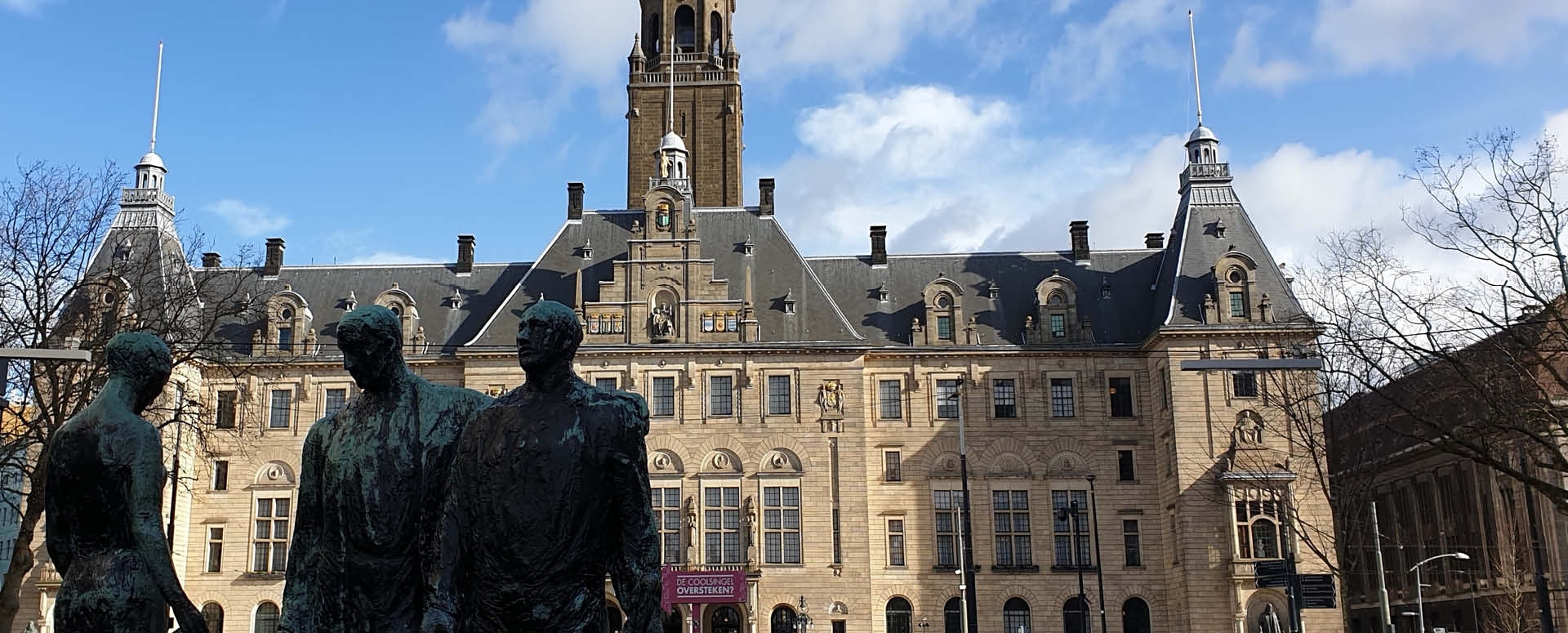 Rotterdam
Rotterdam is the largest port in Europe, architecturally famous and has a city population of over 650.000. The city has a long track record in cooperation worldwide, specifically also in Europe, with for example activities in Eurocities and in many other European networks and other partnerships.
Rotterdam aims to be an exemplary digital city. Digitization is more than a trend. In addition to the physical and social dimensions, we are getting an entirely new third digital dimension. Not a dimension that exists next to it, but one that is intertwined with the other two.
The Municipality of Rotterdam is investigating the possibilities of this for the future city in the Digital City programme. The core of this program is the development of a digital Open Urban Platform with a three dimensional digital copy of the city. Knowledge is now being gained through projects and pilots with which these developments can be further stimulated.
Our goals are to provide our services in the best of ways, digital if possible and desired. Our focus on digital includes political orientation on digital inclusion. This includes both goals for reducing the digital divide, making stronger connections between our world of systems and our peoples. Our digital strategy is in line with our national (Dutch) smart city strategy that we published a year before.
At city hall our vice mayor Faouzi Achbar invests in digital inclusion. Digital inclusion, digital skills, digital divide and digital rights are therefore all in scope in Rotterdam. In general we invest in and connect political and technical responsibilities.
The city of Rotterdam is already working to operationalise the Cities Coalition for Digital Rights' five principles:
1. Universal and equal access to the internet, and digital literacy: Rotterdam wants every Rotterdammer and Rotterdam business to have accessible access to at least two high-quality digital fixed internet connections. This includes connections from internet providers in general and from fibre-optic providers in particular. The Municipality of Rotterdam has made agreements with 5 telecom parties for the laying of glass fibre in Rotterdam. With the current planning, by 2026 all residents and businesses will have had the opportunity to have a fibre-optic connection. This is not compulsory; residents can refuse.
2. Privacy, data protection and security: Security in the digital world is a prerequisite for many people in society to step into this often not familiar field. Without online security, Rotterdammers are vulnerable to financial damage, discrimination, invasion of their privacy or other human rights. It is important that cybersecurity in the form of resilience, redundancy, etc. protects the dependence that is increasingly emerging on the digital world. Through cybersecurity, the digital world can be arranged for Rotterdammers in such a way that they can be confident. Confident that those with whom they are talking to is really who they say they are and a corner can be provided for Rotterdammers in the digital world where Dutch/European laws and regulations apply.
3. Transparency, accountability, and non-discrimination of data, content and algorithms: Governance concerning working with algorithms including a publicly accessible Algorithm Register containing all high-risk algorithms, a proposal for an external ethics committee to oversee smart algorithms (Algorithm Advisory Board). This includes focus on ethics. Therefore, we work with ARAs (Algorithm Risk Assessment), IAMAs (Impact assessment human rights and algorithms) and DEDAs (The Ethical Data Assistant). We also adopted policy for a sensor registry, which covers both the public as well as the private spheres. Together with other public entities in The Netherlands we develop ways to provide insights, trustworthiness and transparency, as well as new opportunities in the field of IoT.
4. Participatory Democracy, diversity and inclusion: New technologies and digital applications also offer opportunities, including in the areas of service delivery, participation and democracy. There is a growing group that expects the government to be able to do more and more things digitally, independent of time and place. But there are also citizens for whom physical conversation or help at the kitchen table or on the street corner is the best solution. When we see it not as a contradiction, but as an opportunity to make the physical still, or perhaps even better, possible by expanding the possibilities for those citizens who can do it digitally, then there is win-win, because then everyone continues to participate. Participatory democracy, diversity and inclusion is part of our program and digital platform called mijn.rotterdam.nl This platform allows citizens, stakeholders of our cities' neighbourhoods, to be part of the developments (up to date) in their neighbourhoods. Other examples of participation and democracy are our Citylab010 program, the Right2Challenge/-2Cooperate program and MooiMooierMiddelland.
5. Open and ethical digital service standards: A good way to explain how Rotterdam deals with ethics and openness is to look at our investments in our digital twin and the open urban platform. The Open Urban Platform (OUP) is an important part of the urban digital infrastructure, enabling all stakeholders (including all Rotterdammers) to be connected within the Rotterdam digital ecosystem. The platform is fed by various data sources and allows data to be shared and visualised. The result? Many new applications and services for the city and its inhabitants.