The right to have digital rights in cities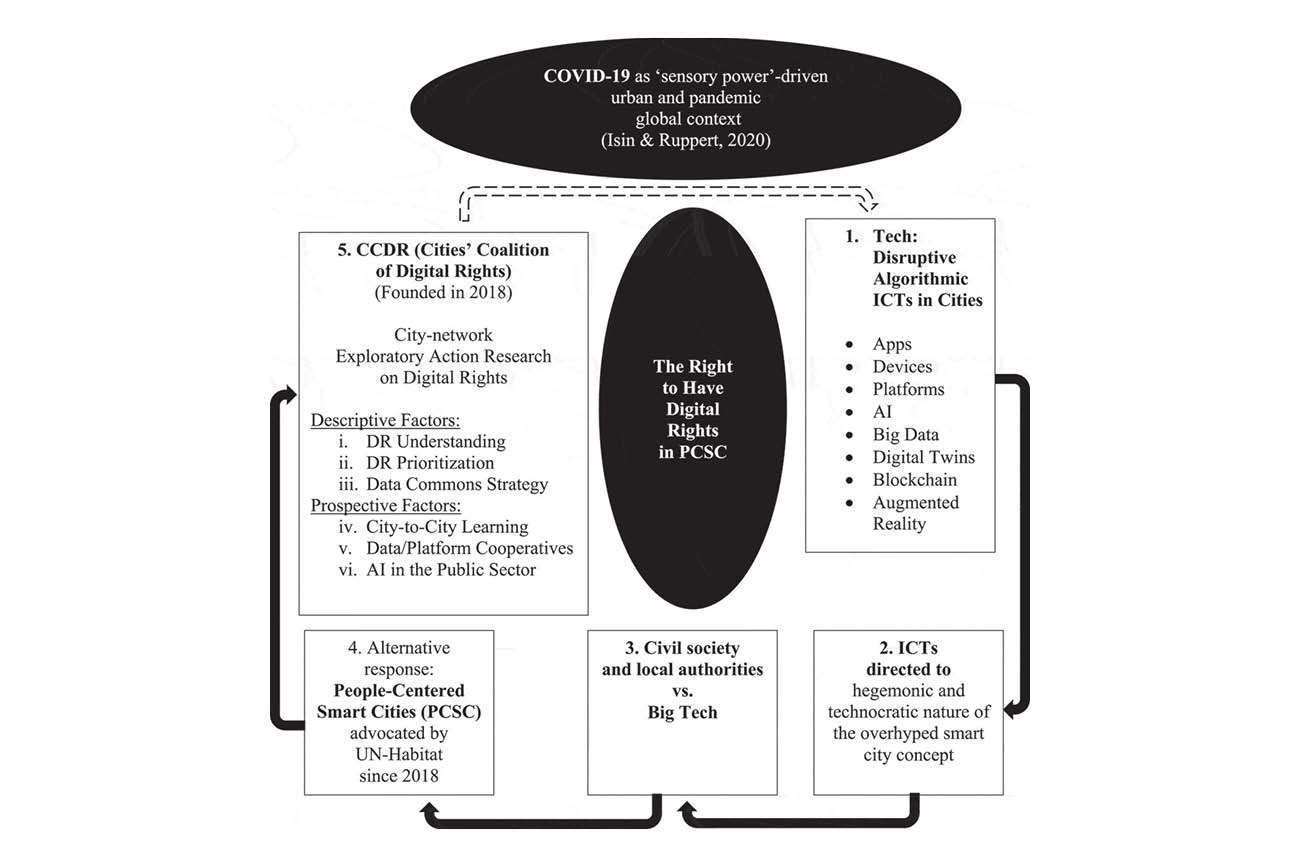 Igor Calzada, Senior Researcher at WISERD at Cardiff University and Senior Research Affiliate at the University of Oxford and Marc Pérez-Batlle and Joan Batlle from Barcelona City Council have just published the article "People-Centered Smart Cities: An exploratory action research on the Cities' Coalition for Digital Rights".
Over the past years, the hegemonic smart cities concept -which has brought about an integration of technology into nearly all aspects of public and private urban life- has been questioned, and concerns on the protection of digital rights have emerged. Covid-19 has been a trigger for accelerating the side effects of digital technologies in urban environments, and awareness among civil society organisations and municipalities on the need to protect digital rights has increased.
Against this backdrop, alternative and rights-focused versions of the smart city have been put forward by initiatives such as UN-Habitat's People-Centered Smart Cities program and the Cities Coalition for Digital Rights. The concept of the smart city has been expanded to include themes like public participation, education, public health, data governance and digital inclusion, aspects that are at the core of inclusive digital and urban affairs. 
To assess this change in the definition of the smart city, the article explores what "the right to have digital rights" means in 13 CC4DR cities (Barcelona, Amsterdam, NYC, Long Beach, Toronto, Porto, London, Vienna, Milan, Los Angeles, Portland, San Antonio, and Glasgow). It analyzes six digital rights-related factors:
The understanding of digital rights
The degree of priority of the several digital rights
The data commons strategy in relation to the data governance model adopted in each city
The resulting outcome expected for each city from the CCDR, understood as a city-to-city-learning program
The expectations about data co-operatives and platform co-operatives
Promises and perils regarding AI adoption and uptake in the public sector 
The article carried out action-research about these six topics and found common patterns between cities' strategies and policies regarding digital rights, but also observed disparities among them.
Read the full article here to learn more about the right to have digital rights in CC4DR cities!