Amsterdam's Cyberbank: A Bank for Laptops to Fight the Digital Divide
On Thursday 8th June, the Cities Coalition for Digital Rights gathered for its monthly deep-dive webinar, which was about the Cyberbank project that is being implemented in the City of Amsterdam. This initiative by Cybersoek is supported by the Municipality of Amsterdam, and aims at providing devices and capacity-building to its users. The webinar was a great opportunity to learn about the opportunities and challenges of the project and discuss and share experiences on initiatives to fight digital illiteracy in communities.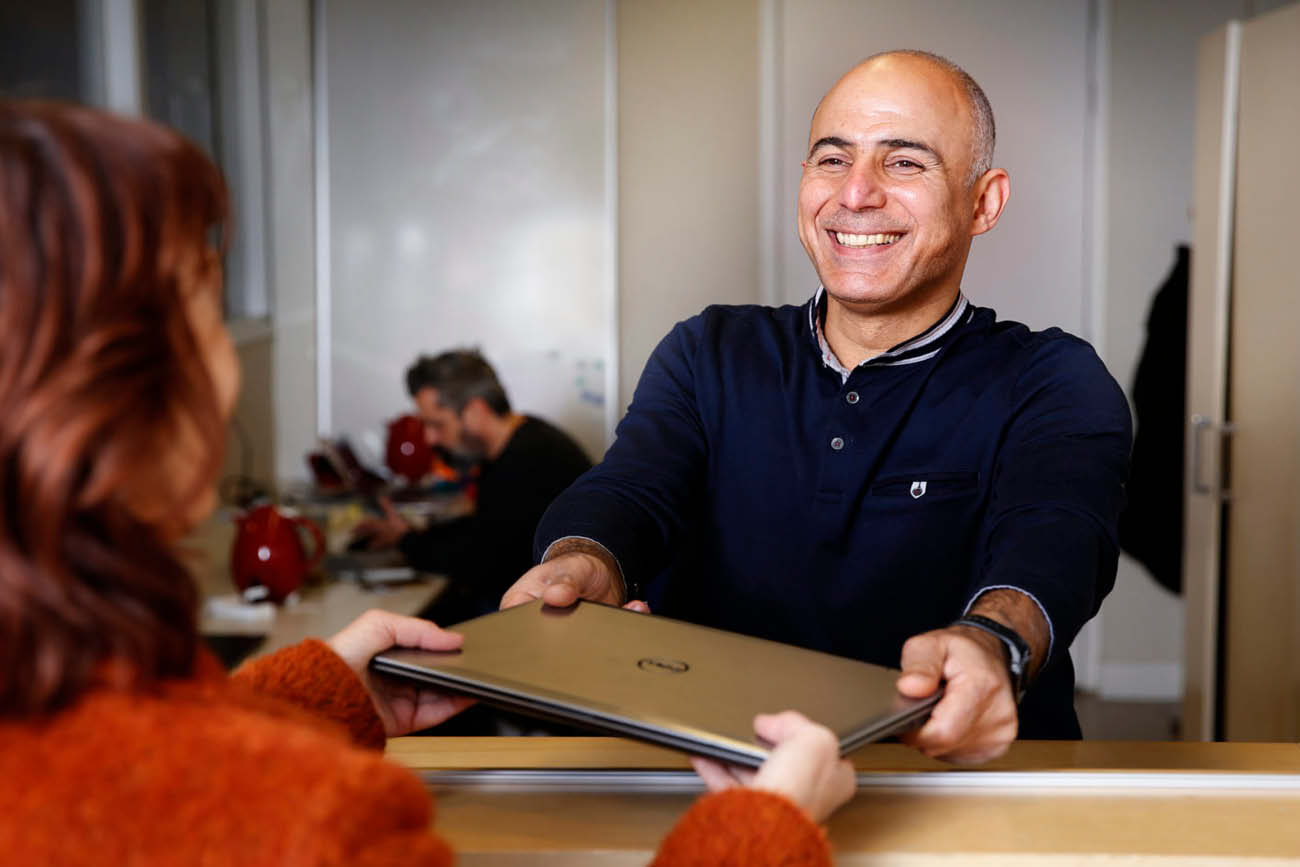 Laptops and support to bridge the digital divide
Launched by Cybersoek, Cyberbank is a kind of food bank for laptops and digital support for people with low-income and limited funds that has been implemented in the city of Amsterdam. It collects, refurbishes, and distributes laptops to holders of the Stadspas (the City Pass for people with low income in the city of Amsterdam). Created after a rapid increase of demands for assistance during the Covid-19 pandemic, Cyberbank aims at reducing the digital divide in a sustainable way by building a structural service.
According to a study by CBS published in 2020, 97% of the Dutch population has access to the internet. But what about internet connection and quality devices? Looking at the city of Amsterdam, digital inequality is critical: 1 out of 5 Amsterdammers have no digital skills, 1 in 10 with a lower income do not have access to Wi-fi in their households and 13% of the entire population do not get along well with digital devices, often possessing outdated and malfunctioning hardware.
In order to bridge the digital divide and tackle digital inequality, the Cyberbank has started to collect used laptops from companies and private owners who donate them. Young people at a distance from the labor market refurbish the laptops and, after receiving a quality check and obtaining the appropriate licenses, the devices are distributed monthly via a lottery system to the people holding a Stadspas on a 20€ deposit.
To fight the digital divide, however, granting access to digital devices is not sufficient. Digital skills need to be built and acquired, and that is why Cyberbank also offers free support to its users: from installing the devices together with the participant, to opening its facilities for walk-ins to use fast internet, including basic training courses.
Cities face common challenges when it comes to fighting the digital divide
After Cybersoek's presentation, the participants had the opportunity to ask questions and discuss common challenges around implementing digital inclusion services. Among others, cities face hardships when it comes to scaling up projects similar to the Cyberbank, or when it comes to assessing what is the most suitable way to grant access to devices and connectivity: Should it be done through donations? By setting up a loaning service? 
These and more questions are faced by cities worldwide on a daily basis, and it is by joint city action and knowledge exchange in networks like the Coalition that they are answered. If your city is still not a member, join today!
---
About the Cyberbank
Cyberbank is a project launched by Cybersoek, which was founded by the city of Amsterdam in 2001 as part of Ministry of Internal Affairs policy, with the aim of closing the digital divide. 
Check Cyberbank's website to learn more about the project, or reach out to its director Karien Sondervan karien@cybersoek.nl
For more information and initiatives on digital inclusion from the City of Amsterdam, contact Charissa Sloote c.sloote@amsterdam.nl